How to Balance your Pitta/ Vata/ Kapha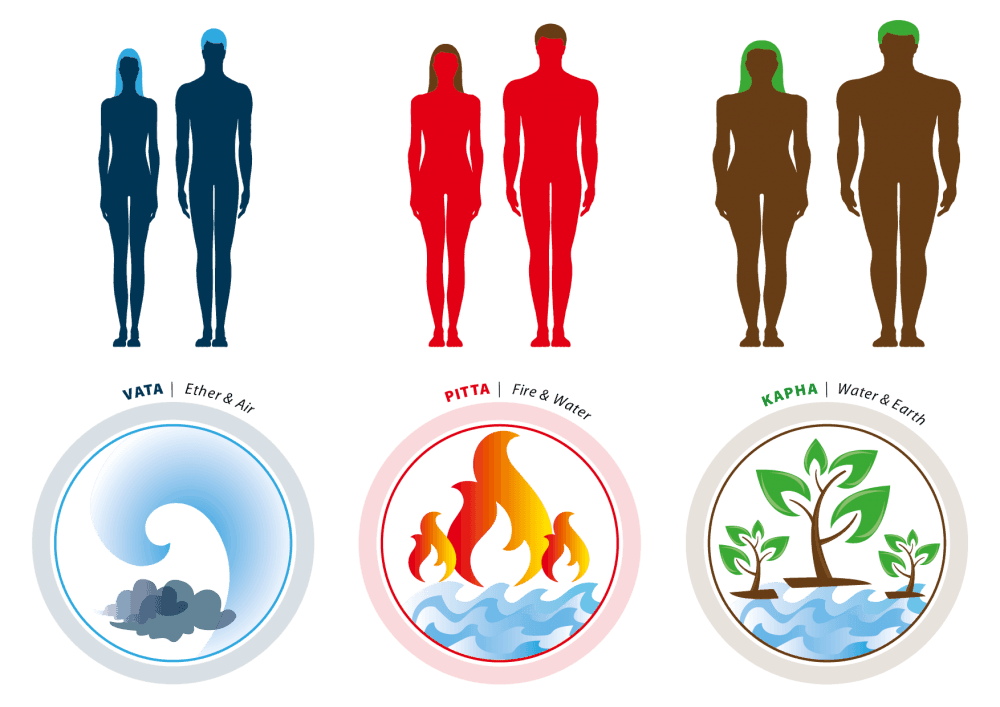 How to Balance your Vata Pitta Kapha Doshas
Ayurveda refers to the science of 'longevity and life'. The base of this philosophy is to balance the mind, body and spirit. According to Ayurveda, you and the whole universe are born with a life force that comprises the five elements of nature, and that is Prithvi (earth), Jala (water), Teja (fire), Aakash (space), and Vayu (air). The human body possesses a unique balance of these five elements in varying degrees. This balance of elements is known as a Dosha.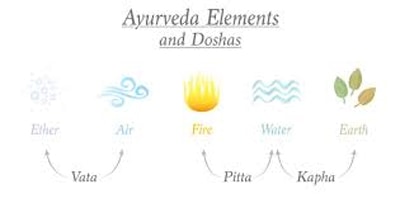 Before we get started, let's talk about what a "dosha" actually is. The term Dosha in Ayurveda refers to your unique physical and mental constitution. This includes vata, pitta and kapha that each influence our personal well-being. These three doshas represent a human body's basic constitution or Prakriti. Every individual is different and unique with which dosha is their 'dominant' one or some may even have a mixture between two/ three. By understanding and acknowledging what your main dosha is, this can help you maintain a balance for health reasons and a peace of mind.
Some factors that determine 'Prakriti'
An individual's basic prakritis confirmed before birth. The factors that determine prakriti are listed below: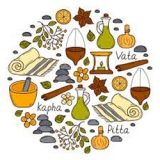 Time of conception
Mother's lifestyle and diet (during pregnancy)
The health of the uterus
Constitution of ovum and sperm
The predominance of any of the above factors determines the prakriti.
What determines Vata Pitta Kapha doshas in a human body?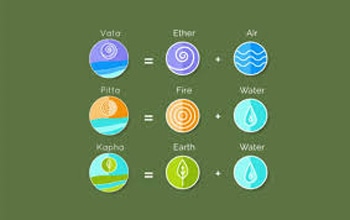 As mentioned earlier, the human body is made up of five different elements, that is:
Prithvi (earth)
It represents the solid state of matter and constitutes the nails, bones, tissues and teeth. It further represents the physical sheath of a human being. Also, earth helps in perceiving smells.
Jala (water)
It represents the liquid state of matter and constitutes the lymph, blood, and energy sheath of a human being. Also, it helps in sensing taste as it connects with the tongue.
Teja (fire)
It does not have any form. Fire helps to change the state of any substance. It helps regulate body temperature, digestion, and connects with the eyes to help in vision. It represents the emotional, mental sheath of a human being.
Aakash (space)
Within the human body, space constitutes all the empty and hollow spaces between cells like channels and pores. It is connected to the ears to help in perceiving sound. The bliss sheath of a human being is represented by space.
Vayu (air)
It represents the gaseous state of matter. It constitutes the nervous system and respiratory system within the human body. Air helps in perceiving touch sensation. Air represents the wisdom sheath of a human being.
A combination of these five air, fire, space, water and earth elements results in three doshas or bioenergies: pitta, vata and kapha. These elements are the building blocks of life. Although each human body is composed of all the three dosha types, each body has a different combination. This determines a person's genetically inherited personality and physical traits. It is essential to identify the dosha in an individual's body and then create a suitable lifestyle. This means adopting a daily routine and healthy diet based on your prominent dosha.
Ayurveda separates the different body types into seven categories. Hence, a person can be:
Pitta dominant
Vata dominant
Kapha dominant
Vata/Kapha (kapha/vata)
Kapha/Pitta (pitta/kapha)
Pitta/Vata (vata/kapha)
Vata/Kapha/Pitta – tridoshic body type which is rare
The Vata Pitta Kapha doshas in a human body are influenced by sounds, environment, colours, workplace, food, climate and drink. These doshas are also determined by your level of exercise, emotional state and even astrological influences.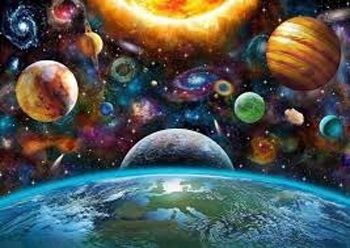 We aim to keep our doshas balanced through following a healthy lifestyle and diet. Let's have an overview of each dosha type:
Pitta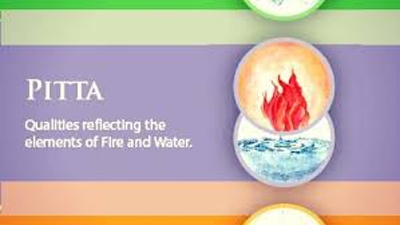 This relates to the qualities reflecting the fire and water elements. It controls metabolism, digestion and hormones linked to appetite.
Strengths
Good learner, purposeful, intelligent, strong desire for success, self-determined, natural leaders, good circulation, healthy skin and hair, quick metabolism
To help balance your pitta, here are some things you can do:
Eat more foods that are naturally sweet (dates), bitter (turmeric) and astringent (pomegranate).
Consume cooling foods (both energetically and in temperature)
Eat fresh cooked foods (raw vegetables and foods)
Avoid direct exposure to the sun from 10 a.m. to 3 p.m.
Include a moderate amount of high-quality olive, sunflower and coconut oils in your diet.
Minimise heating and acidic foods and drinks such as vinegar, alcohol, chilli etc.
Archetype of Pitta Dosha:
Warm skin; medium frame, size, and musculature
Easy to lose and gain weight
Oily reddish skin, light-sensitive eyes, fine oily hair, and intense gaze
Strong digestion and appetite
Good complexion
Good complexion
Steady hormones
Clear, sharp voice; walks with intention
Strong eyesight
Vata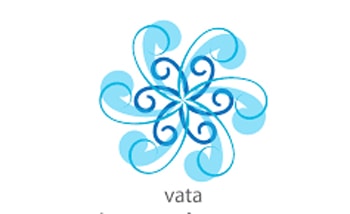 This is the most powerful of the three doshas as it controls basic bodily functions, as well as the mind. It reflects the qualities of space and air.
Strengths
Good learner, multitasker, highly creative, kind-hearted, flexible, naturally slim
Below are some points to help keep your vata balanced:
Stick to a daily routine. This means getting at least 8 hours of sleep at night and having sufficient 'down-time'
Warm, moist foods are great at balancing vata, especially if it's sweet, sour and salty. Meals should also be consumed at regular times.
Massaging your body with warm oil a couple of times a week helps to nourish and protect the skin.
Avoid deep fried foods and alcohol.
Add healthy fats to your diet and regularly apply oil to your body before showering.
Archetype of Vata Dosha:
Long, straight frame, light muscles and bones
Cold feet and hands, cool skin
Small, fine features, many times irregular features
Easy to lose, hard to gain weight
Variable digestion
Sometimes they are hungry, sometimes not
Fast eater, talks fast, moves fast; light on feet
Kapha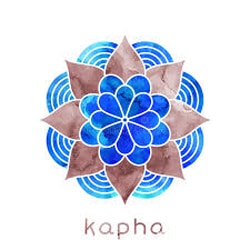 This controls the strength and stability, such as muscle growth, weight and the immune system. It also helps supply water to all body parts and moisturizes the skin. These are qualities reflecting the elements of earth and water.
Strengths
Caring, strong joints and bones, happy, trusting, empathetic, patient, calm, wise, romantic, healthy immune system
In order to keep kapha balanced here are some tips:
Try eating a diet that consists of pungent, bitter or astringent taste. Warm foods and spices such as ginger, chilli and cinnamon are good for keeping you in balance.
Consume room temperature or warm drinks
Create a routine time on when to eat your meals
Get moving. This could mean a walk in the morning or a yoga class during the day.
Give yourself a massage using raw silk gloves.
Stay warm and dry. Those who are kapha-dominant may be extra sensitive to the cold and may get congested easily. To overcome this, using a heat lamp or heating pad near the chest/ back area can help.
Archetype of Kapha Dosha:
Strong muscles and bones, broad body frame, curvy
Easy to gain weight, difficult to lose weight
High endurance; mental and physical strength
Cool and smooth skin; wavy, thick hair
Strong immune system
Bright, large eyes; fuller lips
Sometimes slow digestion, okay with only a couple meals a day
Low booming voice, walks slowly, talks leisurely
It is all about having a healthy balance in the body, and it will make sure that your hormones are kept in check. Remember that your progress toward health and balance is proportional to how genuinely you stick to lifestyle and diet guidelines. Old habits die hard, and the changes you make may be quite gradual, but the changes need to be made to achieve progress and the desired results. You are the only one in charge of your change rate.
It is essential to remember that we all have natural strengths and steady challenge areas. The Vata, Pitta or Kapha doshas are a fantastic tool for understanding both. This helps to recognise and correct any imbalances at work in our systems. Without fail, these doshas shed light on our variation, guide us in improving self-awareness. With this, one can understand how to offer support—when and where it matters most.
Conclusion
Ayurveda is one of the best means of treatment. It offers a complete system to live a healthy and long life. The holistic science can extremely benefit an individual's health by boosting the immune system to fight against a disease. Also, it ensures one to follow a healthy daily routine packed with a well-balanced diet, depending upon the constitution of your body.
If you need help improving your wellness journey, then be sure to contact our team at Ayurclinic today so we can help you feel like the best version of yourself. We are experts in ayurvedic medicine in Melbourne and are able to provide a range of non-invasive treatments such as massage, yoga and homeopathic treatments. We examine every person in their entirety so we can tailor make an Ayurvedic treatment plan that's best for you. If you are looking for ayurveda in Melbourne, contact us today.