The Ayurvedic Head Massage
The Ayurvedic Head Massage That Can Help You Through A Busy Week
Stress and exhaustion can stem from all aspects of life, negatively impacting your mind and body.  We can sometimes get so caught up in life's responsibilities that we forget to unwind and take care of our own health and wellbeing.  
Whether you are a stay at home mum or work full-time, life can get pretty chaotic causing you to feel physically and mentally depleted of energy and motivation.   
The team of experts at Ayurclinic Melbourne know the best way to naturally restore your wellbeing after a busy week, and that's through an Ayurveda Indian Head Massage.  At Ayruclinic, we believe in treating health conditions naturally rather than using conventional forms of medicine.
An Indian Head massage is a unique manipulation of the head, neck and shoulders. Besides making you feel great, there are many benefits to this Ayurvedic Treatment.  As a result, it will leave your body feeling better physically and emotionally as it will restore and renew your energy helping the body function a lot more optimally.


The benefits of an ayurvedic head massage:
Stress
Massaging the scalp will induce relaxation and stimulate optimal blood flow which will help reduce stress and anxiety, providing clarity and peace.  An Indian Head Massage supports the nervous system by alleviating stress, leaving feeling lighter and more at ease.
Pain & Headaches
A number of things can cause knots to form in your upper back and neck.  This can cause discomfort, tensions and possibly headaches. By massaging the upper back, shoulders, neck and head it will release tension and relax your muscles, preventing headaches and back pain.     
Natural Hair Growth
An Indian Head massage is a great holistic treatment for hair growth.  Massaging the scalp will stimulate blood flow and oxygen to the hair follicles and can awaken the roots of the hair, leading to healthy hair growth and regeneration.   
Energy Levels
As a result of this Ayurvedic treatment, you will feel re-energised, as it will realign your bodies natural energy balance.  As a result of this Ayurvedic treatment, you will feel more tranquil due to the many positive physiological effects it has on the body.  
Do It Yourself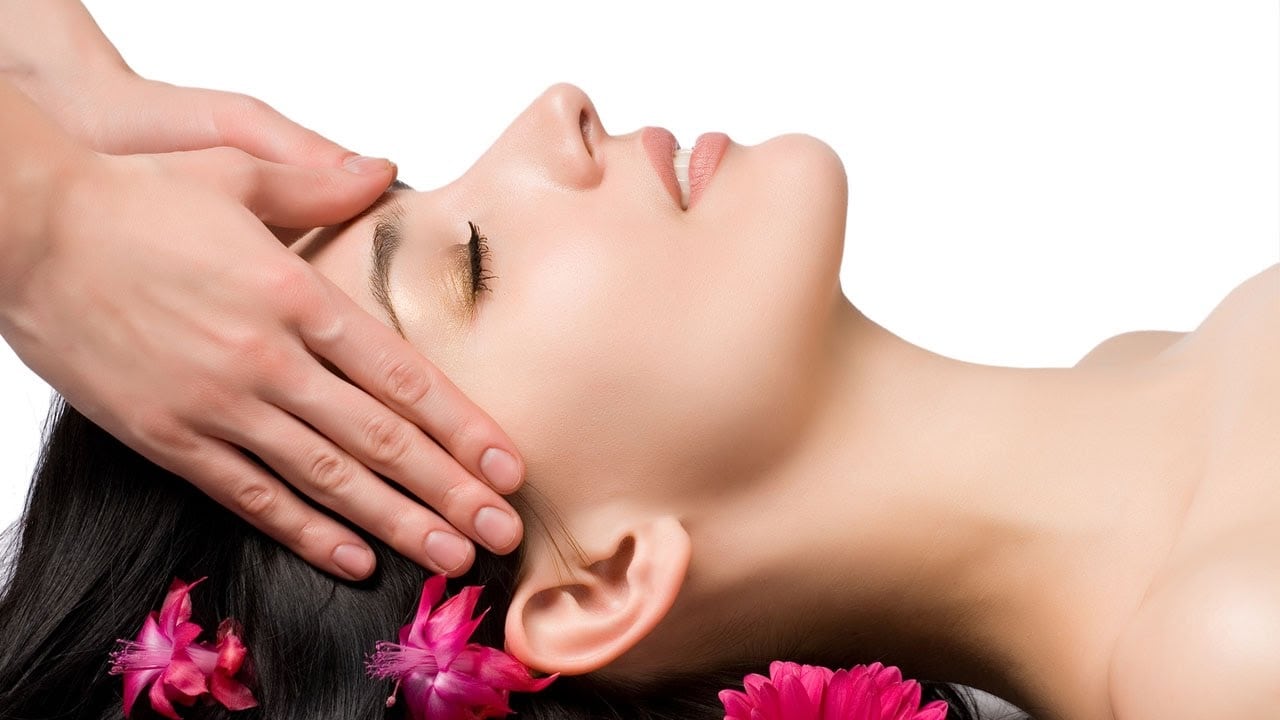 Start by choosing an oil.  This can be olive, almond or coconut.

Sit down with your shoulders back, eyes closed and hands relaxed in your lap.

Start by focusing on your breath.  Breathe in from your nose until your body feels completely relaxed.

Begin by massaging the oil into your head, starting from the sides and working towards the top.

Using both hands, gently push your fingers through your hair and begin massaging your head with your fingers.  Repeat this 3 times.

Take handfuls of your hair and gently tug at your hair, this will ease tension.

Squeeze the temples with the heels of your hands and making slow circular movements.

Move on to the back of the neck.  Begin to squeeze and roll the muscles in the back of your neck working your way down.

Next, place both hands on your head and both of your thumbs at the base of your skull.  Begin by creating small circular movements along the occipital ridge using a pressure that suits you.

Place one hand on your opposite shoulder and begin to gently squeeze the muscle near your neck.  Slowing work your way outwards down the arm. Repeat this twice on both sides.

Finish by lightly massaging your hands through your hair, from the front of your head to the bottom of your neck, extending the movement to cover your face.  Repeat this a few times then allow yourself to relax.

To end your Indian head massage, do some with neck stretches.
If you are feeling tired, stressed or burnt out then contact our team at Ayurclinic today.  Our team of experts will help you feel revitalised with a non-invasive Ayurvedic treatment such as an Indian head massage.  If you are looking for Ayurveda in Melbourne, then contact us today.